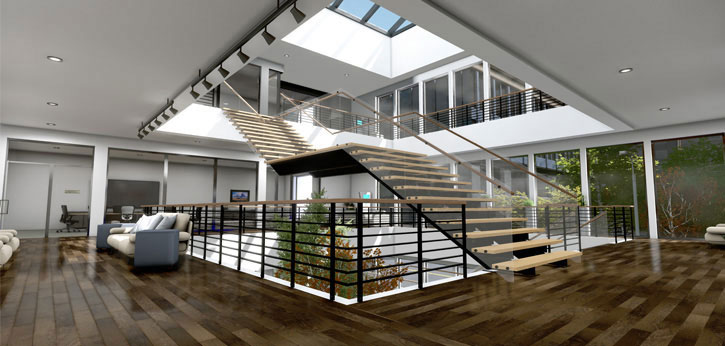 ---
Virtual Reality Isn't Just for Gaming, It's for Business
Novi, MI (September 22, 2017) Chameleon Power will join several other Southeast Michigan firms working in Virtual Reality, Augmented Reality and Mixed Reality at the Grand Circus-sponsored DETrealities Conference on October 6, 2017. Participants will share best practices and be available to provide insight and expertise to area companies and people considering VR/AR for business applications, or as a career path.
Bill Westrick, Chameleon Power's Vice President of Research and Development, will give a TED Talk-style presentation on the company's experiences applying Virtual Reality gaming technology to business use-cases. Chameleon Power product configuration and visualization applications are used by category-leading manufacturing, installation and retail companies to help end-customers experience products in Virtual Reality, as well as more conventional 2D and 3D environments.
Chameleon Power Virtual Reality Environment for Commercial Flooring Configuration & Visualization
"The business uses for Virtual and Augmented Reality are extensive, particularly with complex, expensive or semi-custom products," said Dan Dempsey, Chameleon Power's President and CEO. "For our Virtual Reality applications, we use development platforms originally designed for video games. Coupling this with our proprietary technology and color and appearance expertise allows us to create extremely photorealistic environments. Putting customers into VR allows them to see their projects 'live' and develop confidence in their product choices before buying."
"We're very happy that Grand Circus pulled DETrealities together," Dempsey continued. "Detroit is a growing software tech area– we're proud to be part of that community – and we want VR and AR to be at the forefront."
DETrealities will be held at Grand Circus headquarters in downtown Detroit. The full list of speakers is available here.
---
About Chameleon Power
Chameleon Power is the leader in photorealistic visualization in 2D, 3D, Virtual Reality and Augmented Reality. Chameleon Power applications help businesses speed sales conversions by enabling their customers to configure, see and experience choices in a life-like digital environment. Chameleon Power's visualization engine employs proprietary color and appearance technology, and incorporates a robust content management system to facilitate seamless image and product data utilization across all mobile and web platforms.

Chameleon Power visualizers are used by category-leading companies in building, remodeling, construction and home décor, and are being adopted in all industries where visualization is critical to the purchase decision. For more information visit chameleonpower.com or follow us @chameleon_power on Twitter and on LinkedIn.