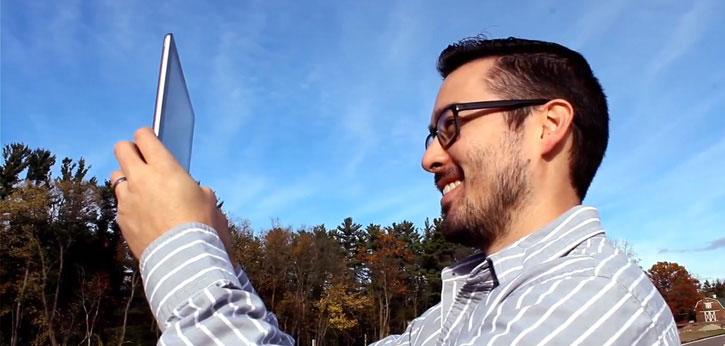 ---
Augmented Reality Making Lot Selection Easier for the Home Buyer
Spec and Custom Home Builders See Benefit from AR Technology
Novi, MI (November 05, 2018) Lot selection is one of the more difficult decisions for home buyers in general, the challenge can slow the building process indefinitely. Custom and spec home builders are embracing technologies that eliminate this issue. Chameleon Power, the world leader in visualization technologies, has developed an Augmented Reality (AR) tool that allows home buyers to visualize their custom home designs on their lot of choice. Utilizing mobile devices with the app, the Chameleon AR tool provides for a simple and elegant way to view homes instantaneously.
Viewing through the mobile device camera, house buyers can envision their house of choice while standing in front of the lot. Home builders can provide this app to the buyers during the build process.
"Custom home builders have expressed lot selection as one of their biggest delays in the home design and build process, and so we elected to capitalize on our AR knowledge and vast visualization experience to provide a solution that alleviated this problem," said Dan Dempsey, President of Chameleon Power. "Chameleon is constantly listening to the home builder community and is eager to launch technologies that make builders more efficient and profitable. This is just one of many tools we are evolving for the home building industry."
To view the Chameleon Power AR lot selection application in action, visit https://www.youtube.com/watch?v=qXhsLj0DWRQ
---
About Chameleon Power
Chameleon Power is the leader in photorealistic visualization in 2D, 3D, Virtual Reality and Augmented Reality. Chameleon Power applications help businesses speed sales conversions by enabling their customers to configure, see and experience choices in a life-like digital environment. Chameleon Power's visualization engine employs proprietary color and appearance technology, and incorporates a robust content management system to facilitate seamless image and product data utilization across all mobile and web platforms.

Chameleon Power visualizers are used by category-leading companies in building, remodeling, construction and home décor, and are being adopted in all industries where visualization is critical to the purchase decision. For more information visit chameleonpower.com or follow us @chameleon_power on Twitter and on LinkedIn.