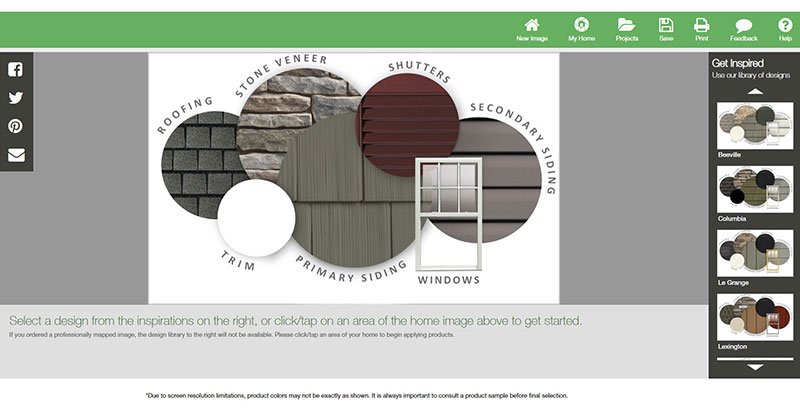 ---
Chameleon Power Uses Digital Tools for Material Selections
Novi, MI | December 12, 2018
Chameleon Power, the visualization software leader across 2D, 3D, VR (virtual reality) and AR (augmented reality) platforms, has implemented digital tools that exploit architectural concepts for making material selections. The digital swatching suite can be used for exterior and interior selections during the design process.
The digital swatching tool provides users with the ability to select materials from a virtual database and collaborate with stakeholders. The tool can help customers make educated design decisions using pre-selected palettes, or design from scratch using the unlimited digital data set.
"Selecting from the 'curbside view' can be very challenging for decision makers, and the swatching tool simplifies product selections beyond traditional visualization," said Dan Dempsey, president of Chameleon Power. "With this web-based virtual design tool, Chameleon has enhanced a concept regularly used by architects and designers."
The swatching tools are available on Chameleon-powered websites and are being integrated into the homebuilder suite of selections tools.
Chameleon Power visualizers shorten the design cycle and enhance customer satisfaction. Websites that utilize Chameleon visualizers enjoy increased user time of more than 3X and sales increases of more than 75%.
---
About Chameleon Power
Chameleon Power is the leader in photorealistic visualization in 2D, 3D, Virtual Reality and Augmented Reality. Chameleon Power applications help businesses speed sales conversions by enabling their customers to configure, see and experience choices in a life-like digital environment. Chameleon Power's visualization engine employs proprietary color and appearance technology, and incorporates a robust content management system to facilitate seamless image and product data utilization across all mobile and web platforms.

Chameleon Power visualizers are used by category-leading companies in building, remodeling, construction and home décor, and are being adopted in all industries where visualization is critical to the purchase decision. For more information visit chameleonpower.com or follow us @chameleon_power on Twitter and on LinkedIn.